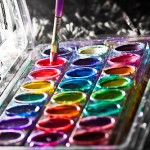 French art include all artistic works done in the region of France. The works might be plastic or visual arts of woodwork, textile, and architecture associated with France. France has a long and interesting history of arts, dating back to the ancient times. Most arts like the Gothic and Baroque are believed to have originated from France.
Interesting Facts About France Art
Romanesque art
During this period, most arts revolved around the church and courts. The church, for instance, supported several major arts like the manuscript illumination. During this time, the artistic works involved complicated processes as opposed to the succeeding periods.
The Gothic art
i.  France is considered the home of the Gothic art, originating in the 12th century in the northern part of France. The first Gothic building was the Abbey of St. Denis where most French kings have been buried.
ii.  Gothic art is also attributed to the rise of most cathedrals and stain glass in most cathedral buildings' windows. Gothic entailed the observance of nature in the artistic works, mixed with simplicity and precision. It is in this period that miniature painting was discovered, to be later adopted by the Italians.
iii.  Gothic art has made France be regarded the origin of today's basilicas and cathedrals spread over the world. It is interesting to note that initially Gothic art was referred to as French art.
The Baroque art
i. With the advent of the 17th century, French art culminated into an era of nationalism, combined with antiquity. This led to formalization of art, and production towards the state.
ii. Art institutions were set up to give opportunities to more people in France and beyond.
The 18th Century art
i. 18th century saw the development of more advanced styles in art. Minor arts were done by some form of delicacy, to produce wonderful arts with more simplicity. Interest in new styles gave rise to a more neoclassical style which was favoured by most people.
Impressionism
i. The French artists developed interest in impressive visual arts in the 19th century. This gave a new effect to the sculpture paintings and images. However, the decorations reduced as machines started replacing hand job.
ii. The 20th century did not seem to put an end to the French art, which continues to sparkle in different parts of the world.
iii. France has grown in its art sector, and its artistic structures continue to attract numerous tourists from around the world, including the United Kingdom.
Today, three-quarter of the French are Christians; of which most of them are Catholics. This is due to the Gothic cathedrals and basilicas erected by the French art in the 13th century. Many tourists visit these cathedrals, not to pray but to watch. It can generally be said that France is the connoisseur of most artistic work spread around the world. These art works make France one of the best destinations to visit in the world.
Video: Pre-historic facts about French Art
More Facts about French Art
France Art Facts
Many French people spend their free time visiting museums and attending to art events. There are many streets in some regions, specially in Paris – our choice
Top 10 Art Museums in France
If you intend viewing art in France, what are the top museums to include on your itinerary?
Map of France – Art Museum Locations
The museums listed in the Top 10 above can be found on the map of France. Zoom in on Paris to see the many Art institutions in the city.
Many of these sites are in Paris:
France Arts, France Culture – Maps of World
Learn about arts and culture of France including information on the country's museums, monuments, paintings, theatres, music and much more.
Mediaeval French art – a short history – About France
An overview of the development of art in mediaeval France, from the Romanesque to the Gothic.
Top French Artists
Our list of French artists and painters features some of the world famous painters!
In our opinion – Claude Monet has to be number 1 on our list of French Painters. There are just so many fabulous examples of Monet Art: from his water lilies, poppies, regattas at Argenteuil to Brodighera
Claude Monet (1840 – 1926)
– Claude Monet was a founder of French Impressionist painting, and renowned for expressing one's perceptions before nature, especially as applied to plein-air landscape painting
Paul Cezanne (1839-1906)
– Paul Cézanne was a Post-Impressionist painter whose work laid the foundations to a radically different world of art in the 20th century.
Paul Gauguin (1848-1903)
– Paul Gauguin was a French post-Impressionist recognized for his experimental use of color and synthetist style.
August Renoir (1841–1919)
– Auguste Renoir, was a leading painter in the development of the Impressionist style.
Camille Pissarro (1830–1903)
– Camille Pissarro was a Danish-French Impressionist and Neo-Impressionist painter born on the island of St Thomas.
Edgar Degas (1834–1917)
– Edgar Degas was famous for his paintings, sculptures, prints, and drawings. He is renowned for his many works with dancers.
Édouard Manet (1832–1883)
– Édouard Manet was a 19th-century artist first to paint modern life, and a pivotal figure in the transition from Realism to Impressionism.
Charles-François Daubigny (1817–1878)
– Charles-François Daubigny was one of the painters of the Barbizon school, and is considered an important precursor of Impressionism.
Eugène Delacroix (1798–1863)
– Eugène Delacroix was a Romantic artist regarded as the leader of the French Romantic school.
Marcel Duchamp (1887–1968)
– Marcel Duchamp was a French born painter, sculptor, chess player and writer most associated with Cubism, conceptual art and Dada
Do you agree with our list of French Artists? Add your comments below please!